Mingde Branch of Rehabilitation Institution
Publication Data :
Last updated:2020-05-20
Count Views:328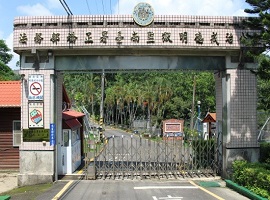 [Organization and Structure of the Rehabilitation Institution]
The Mingde Branch of Rehabilitation Institution was established on October 28, 1994 at Shanshang Township, Tainan County on a 34.62018-acre piece of land. The original approved capacity was for 300 inmates, and its primary function is imprisonment and rehabilitation for narcotic convicts. It is designated to be responsible for the psychiatric rehabilitation of narcotic convicts, which is different from the physical rehabilitation conducted by the drug rehabilitation place. The Mingde Branch of Rehabilitation Institution now holds 170 narcotic convicts. The approved capacity is 300 prisoners and 27 employees. Currently there are 25 employees (including a Duty Officer), including 22 guards (10 day shift guards, and 3 night shifts with 4 guards each), 2 counselors, and 1 superintendent.
Selection Area and Criteria for the Subject
The selection area for the Rehabilitation Institution is the correctional institutions in the central and southern area of Taiwan. The subject for the Rehabilitation Institution is narcotic convicts, and the criteria are as follows:
(I) Persons who are addicted to drugs and are sentenced for imprisonment with a prison term under 7 years.
(II) Persons with a religion or who are more likely to have a religion.
(III) Persons with good physical condition and without any catastrophic illness.
(IV) Persons with no escape record and no ongoing cases under investigation and trial.
(V) Persons with no record of an outdoor exercise ban within a year.
[Rehabilitation Goal]
To cope with the drug abuse problem effectively and break through the difficulty encountered under the current drug prevention policy, religious mental rehabilitation courses are planned in the Rehabilitation Institution. Different rehabilitation and treatment models in multiple aspects are used to show the effectiveness of rehabilitation.
The core idea for the Mingde Branch of the Rehabilitation Institution has been religious rehabilitation for over 20 years. It owns the name "the world's first village" (rehab village for short) and has a beautiful natural environment far away from the hubbub of the city. Additionally, personnel there have much practical experience and it has resources such as social workers. Recently, drug-related crimes are increasing and the chance for recidivists to abuse drugs again remains high. As a result, the Rehabilitation Institution spares no effort in planning corrective counselling and the its goals are as follows:
I. Combining the regional service in the southern area with the resources in the professional counseling field. Exercising the principles that "mental rehabilitation is better than physical rehabilitation" and that "counseling is better than punishment" to plan counseling measures for rehabilitation.
II. Expanding the capacity for selection. Implementing rehabilitation counseling and treatment courses stage by stage to exert the most beneficial results for rehabilitation counseling.
III. Planning diverse treatment courses to focus on the mental enlightenment of narcotic convicts. These can help them enforce their confidence and perseverance in quitting the addiction and strengthening social control to extend the period before the next recurrence and avoid recidivism. These construct an effective local model for addiction quitting.
[3-Phase Treatment Period]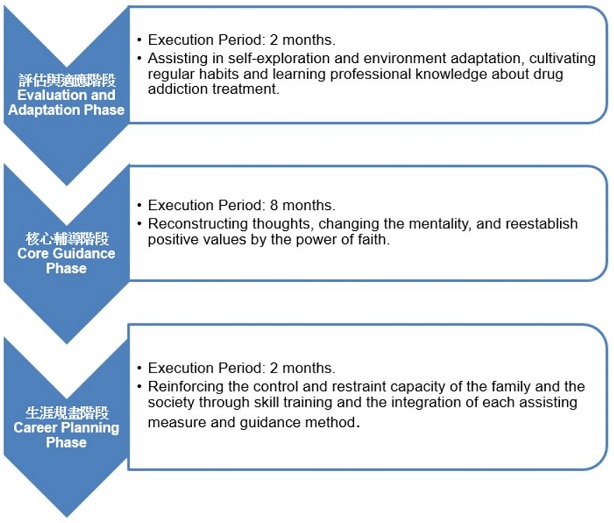 [Guidance Strategy and Course Design]
The Mingder Rehabilitation Prison has a special religious method for drug addiction treatment, which is a 3-phrase treatment course originally invented in Taiwan. We behold the religious spirit (the percentages of the 3-phase religious courses are 13%, 20%, and 17%) to integrate small group courses such as the mindfulness group, the family support group, emotion and stress management group, and professional groups like the strategical group for drug addiction treatment. We also introduce various educational courses such as the professional law-related education, life education, cultural or inspirational speeches, and experience sharing from inmates of the Prison who successfully completed drug addiction treatment, proper financial management and career development course, proper drug usage course, drug abstention strategy, short-term sermon by foreign groups (including Alpha course and short-term sermon promotion), multiple art classes (including horticultural therapy, ocarina, and writing), and short-term skill training courses. By providing after-care and employment service lectures and performing distinctive small group night counseling, individual adoption-guidance services by volunteers, post-imprisonment follow-up, and community care, we expect to help the inmates to give up their mental addiction and overcome the temptation of drugs to successfully complete the goal of overall abstinence from drugs throughout their lifetime.
[Religious and Spiritual Course]
The religious program mainly contains Buddhism and Christianity courses to use the power of religion to conquer the temptation of drugs. With the religious and spiritual courses and activities, we aim to open the inmate's mind, reconstruct their thoughts, stabilize their temperament, and sublimate their soul to further increase their willingness to learn. According to the religious belief, the Fo Guang Shan Compassion Foundation and the Tainan Christian Rehabilitated Fellowship of the Christian Born Anew Fellowship have established the Buddhism and Christianity courses respectively.
[Multiple Professional and Group Courses]

To strengthen the knowledge and intelligence of the inmates about drug addiction treatment, we invite professional teachers to hold various professional courses and use the Tennessee Self Concept Scale to analyze the learning condition of the inmates after imprisonment.(Left Figure: The rolling test of the Tennessee Self Concept Scale)
[Deepening Guidance] - Most Distinctive Night Counseling in Taiwan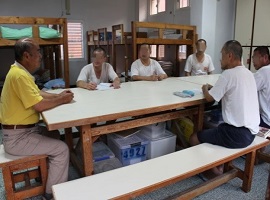 The Branch Prison provides the only night group counseling in Taiwan. It has proven very effective. Two religious organizations respectively visit the Prison to give small group counseling to all inmates for two hours every week at night to enhance the close trusting relationship and emotional connection between the volunteer teachers and the inmates. (Figure: Night counseling by volunteers)
[Continuous Care]---Post-imprisonment Follow-up Guidance and Family Visits

To continue the effectiveness of the religious counseling courses received by the drug addicted inmate in the prison, we integrate resources from the religion, probation, after-care, and occupational organizations to actively assist the reestablishment of the inmate's family relationship after their discharge. By providing care, support, suggestions, and referrals in relation to the psychology, living, work, or faith, we give the inmate confidence to face the challenge of the realistic environment and enable them to maintain good interactions with the volunteers to stay away from the temptation of other drug addicts and avoid recurrence. (Figure: The volunteers visited the inmate's family to care for and improve the support of the inmate for drug addiction treatment)
[Promoting the Cultural and Creative Trend]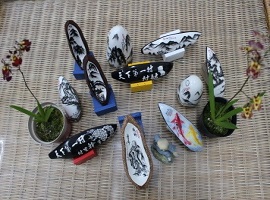 The Rehabilitation Prison is also known as the No. 1 village for drug abstention. In recent years, by combining the source material of mahogany and developing our local features, the Branch Prison holds cultural and creative training courses to encourage the inmates to learn skills and cultivate their observations of the people, things, and objects around them. Through the learning and creating process, the inmates can strengthen their concentration and obtain peace of mind, and further increase their confidence in drug abstention. The shell of the mahogany was once considered useless. Now the shell turns into marvelous products via the inmate's creativity and innovation. Many inmates receiving drug addiction treatment are abandoned by their family and society for repetitive failure of drug abstention. By developing the spirit via the cultural and creative product with the pod of the mahogany, we encourage the inmates receiving drug addiction treatment by telling them that everyone must be good at something and they have infinite potential. Also, we always cultivate the inmates to bear a positive attitude in mind so that they will have a chance to get a new lease of life. (Figure: The creative product series made with mahogany)
[Creating a Drug Abstention Environment of Humanity, Art, and Warmth]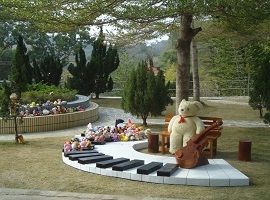 The Branch Prison starts the environment reconstruction and upgrade by combining religious and spiritual courses and activities, cultural and creative innovations, and installation art establishment for the inmates, their family, the volunteers, and the prison's discipline personnel to enhance the support of the inmate's family and improve the relationship between the inmates receiving drug addiction treatment. Featuring local mahogany, the Branch Prison constructed the bus station of happiness and the music park to improve the artistic atmosphere of the inmates. By building a comprehensive drug abstention environment of warmth, humanity, and art and integrating the software and hardware from the internal to the external, we create a unique drug rehabilitation institution - the world's first village. (Figure: The Music and Art Park)